Counselor Training
These annual financial aid workshops are presented for the high school guidance counselor, TRIO/GEAR UP program, Admissions & other Higher Education professionals.
Fall 2020 and Spring 2021
Free Counselor Training Opportunities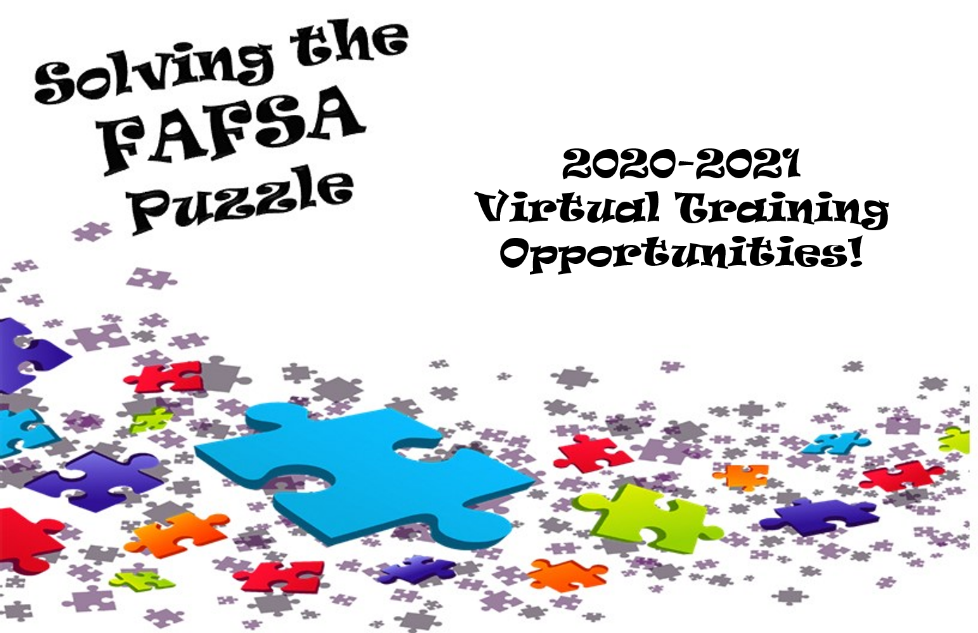 Training Videos
Session Evaluation
Presentations and Handouts
If you are new to counseling High School students as they prepare to complete the FAFSA, or if you simply want a refresher in financial aid, this session will provide a high-level overview of various types of financial aid and the federal application process (FAFSA). We will also be offering ideas and formats to help you facilitate a FAFSA completion or Financial Aid night of your own with your students.
You've managed to successfully get students to complete their FAFSA applications now what? This session will take a deeper look at what comes after the FAFSA is submitted. We'll go over how students can complete their financial aid files, various types of financial aid, and provide some examples of Aid Offers that your students will be receiving.
Paying for college can be complex. Many of the skills students need to plan and pay for college are life skills that can benefit students. This session will explore resources and strategies to assist you in teaching students some of these financial fundamentals as they prepare for college and life after high school. Personal Finance is an elective in high school but it is not an elective in life.
Scholarship Opportunities
Are you interested in learning more about scholarship opportunities and where your students can safely look for them? Advising students on where and how to look for scholarships can be difficult. This session will review opportunities available to students in the state of Kansas and discuss valuable resources that you can share with your students as they look for opportunities locally and nationwide.
Unique Students Situations and the FAFSA
A common phrase used frequently in financial aid is it depends.Often times there is no easy or black and white answer to the situations our students face.During this session, you can bring your unique student situations to our panel of financial aid experts and get assistance with how to advise students and families as they navigate the FAFSA application process.