Counselor Training
These annual financial aid workshops are presented for the high school guidance counselor, TRIO/GEAR UP program, Admissions & other Higher Education professionals.
Fall 2021 and Spring 2022
Free Counselor Training Opportunities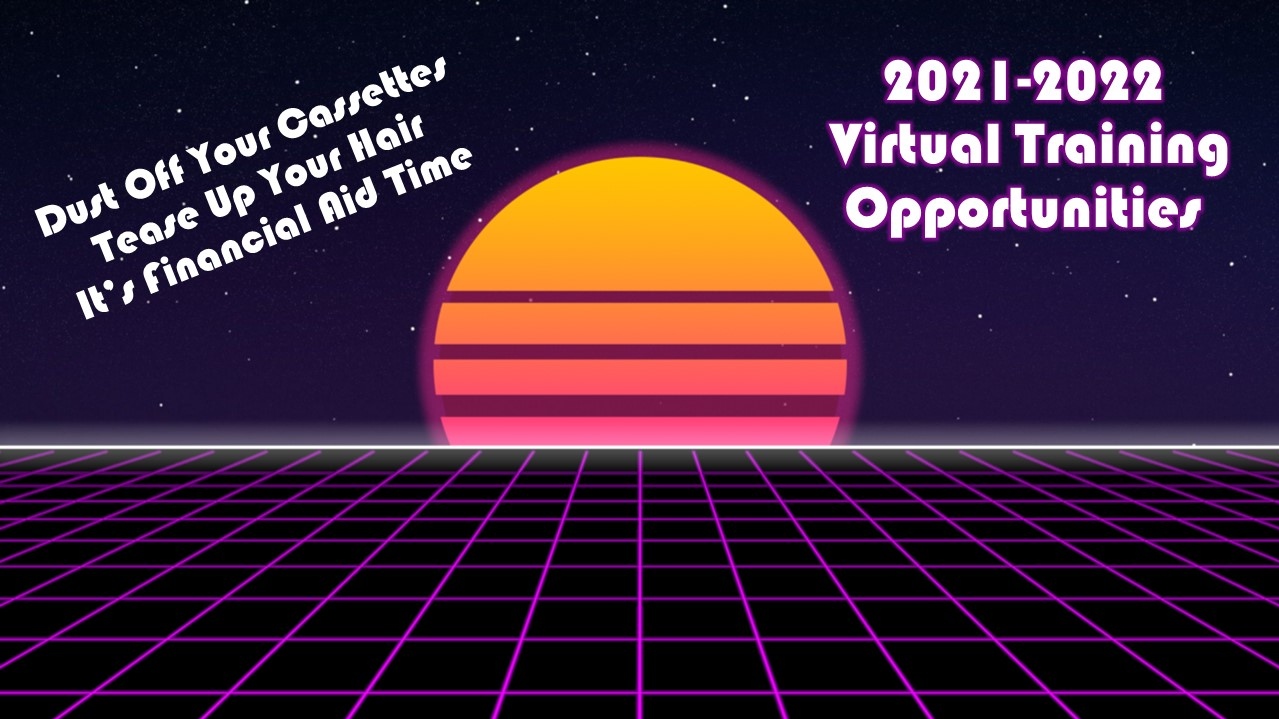 Session Evaluation
Presentations and Handouts (pdf)
Past Events will be available on Youtube
Busting out Unique Student Situations, DACA, Foster Care Questions
September 21, 2021 - 9:30am - 11:00am
Join us for a short overview of Federal Financial Aid and unique student situations. Questions on the FAFSA may be difficult for students in special circumstances such as foster care or ward of the court. Information on undocumented parents and DACA will also be covered. Please submit your question in advance (Google Form will be sent to registered participants 2 weeks prior to the session); we will dedicate space to answer any complex questions you may have by Financial Aid experts.
Footloose through the FAFSA: A Step-by-Step Guide
October 5, 2021 - 9:30am - 11:00am
Join us as we dance our way through the Federal Student Aid application, step-by-step. We breakdown each of the sections within the application and examine them more thoroughly.
Asking for What You Really Want: Free Money!
November 9, 2021 - 9:30am - 10:30am
Guiding students to write their scholarship essays can be tough to navigate and time consuming. Join us for a session to learn the best way to help students customize their scholarship essays without having to start from scratch every time. This presentation will cover the best ways to answer prompts, stand out against others, and what evaluators look for whether the scholarship pool is strictly high school students, current college students, or a mix of both. There will be time for questions built into this session!
Searching for Lost Treasure: How to find Scholarships 101
November 16, 2021 - 9:30am - 10:30am
Everyone says there is scholarship money out there, but where is it? Finding scholarships doesn't have to be difficult! We want to help ease the scholarship search process for you and your students. This session will explain how to search for scholarships and share scholarship opportunities in the state of Kansas and nationwide.
"Great Scott!" - A Look into the Future
February 10, 2021 - 9:30am - 11:00am
Financial Aid administrators from 4-year public, community college, and technical schools will discuss what students should be looking for and working on in the immediate future regarding their aid. We will also highlight the new KS Promise Act and take a brief look at changes coming to the FAFSA in the future years.
I Feel the Need... The Need for Planning for College Finances. So you be Top Gun
March 2, 2021 - 9:30am - 11:00am
After you have received your award letter and discussed your financial options with Financial Aid and Scholarships...now what? During this session, we will discuss college planning to make the journey affordable. We will share recommendations that can assist students and families in making good financial aid decisions. How can I reduce the cost of college? We will share ideas and proven methods to help you financially. College will be exciting, adventurous, and affordable for those who do some college planning.